Today is going to be a two for one!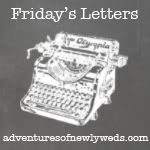 Dear Husband:
Thank you for letting me pack for you. I promise its just easier for the both of us!
Dear Hudson:
Yes. we get to fly on an airplane. Yes. we get to go and see nana and papa. Yes. We get to see the puppies. Yes. Christmas is next week. You have no idea what is about to take place!
Dear Jumpin:
Oh you hold hours of cheap entertainment for my child. I feel like I should repay you somehow!
Dear Iphone:
thank you for making social media so much more productive and efficient.
Dear Boise:
tomorrow. tomorrow. We will love you tomorrow.
Dear Colorado Weather:
Please please please hold up just so we don't have to spend more time in the airport than we already do.
Dear Nana and Papa....
Well, if you follow this blog, you know by now that my parents are the shiz.
Although we live a few states away from them right now,
they sure know how to bring us all a little closer together.
Hudson knows exactly who they are, and I'm pretty sure by now he knows that they send the most amazing packages in the mail.
I went to the mail box earlier this month and found a gigantic box. Usually my mom tells me to be on the look out for a package that they send, but this time, we weren't expecting a package.
I tried to pick it up with Hudson in my arms, but it was too heavy to do so.
I was so confused and thought that maybe they had sent a christmas present early becuase they knew we wouldn't be able to bring something like that back on the plane with us...wrong!
I open the box to find this....
"It's finally here, the month of December
It's a time to make memories we'll long to remember
So mom and dad on this very night,
In this Christmas quilt will wrap up tight,
The next night will be Hudson's turn
the only child this spot does earn.
The next night will be mom and dad, who with much glee
Will dream of gifts beneath the tree.
After Hudson has felt this Christmas wonder.
The cycle repeats, with more Christmas quilt slumber,
the Christmas quilt warmth will come to full flower,
when the family all gather for a Christmas Eve hour
We've leave the quilt under the tree as a bed
So the sweet baby Jesus will have place for his head."
Um....lets just say, I cried for about an hour ]or more] straight.
There are 24 wrapped books.
One for every night of December until Christmas day.
Hudson knows right after bath time that it's time to pick, unwrap, and read a Christmas book.
He runs to the run, does a few quick circles and plops down to open his "gift".
He carefully unwraps the book, and just stares at the cover.
It's probably the cutest thing ever. [I have it on video but it won't let me upload it!]
Our favorite so far...
READ IT!
I packed the rest of the books to bring with us on our trip to Idaho.
Christmas eve night we will be in our Christmas jammies,
putting the quilt under the Christmas tree at my parents house for baby Jesus.
What an awesome way to have fun with the idea of Christmas and gifts,
all while remembering that Jesus still needs a place in our lives!