Hoping everyone had an amazing weekend. I know we did. I think this was the first weekend we were able to relax, just the three of us, in a good 3 months!
Today I'm feeling so blessed to be this week's co-host along with some other amazing ladies!
Welcome to Mom's Monday Mingle!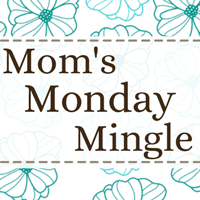 Moms ready to mingle!
Please help spread the news on this growing hop!
Please

tweet

about this hop!
RULES:
1. Please follow each hostess.

They are 1-6 in the list!
Naptime Review-Hostess
At Home Take 2- Hostess
Me and My New Life
Not Your Average Baby Blog
That's Comma with a "K"
Blesid Thrifter
We do FOLLOW back and we really love all the comments!
2. Try to visit at least 4 blogs that interest you. Just don't throw your name into the link up, hoping to gain followers. Participate, make friends, and have fun! I know I have made a lot of great blog friends ;)
3. Feel free to grab the NEW button and display it on your sidebar or link it to the post.