dear husband:
thank you for letting me sleep with the window open, although it's a crisp 30 degrees outside! love you to pieces.
dear hudson:
thanks for being an absolute trooper on that 13 hour road trip...mommy owes you.
dear CMA's:
you NEVER disappoint. ever.
dear luke bryan:
goodness you are grogeous. can I get an amen?!
dear sponsors:
you guys are amazing. no doubt about it.
dear sandy victims:
prayers and thoughts are going out to all of you. Absolutely devastating.
dear Boise:
it's only been 3 days and we are ready to be back...you are just that great.
dear little red:
why oh why did you have to fail your emissions test?! I never thought you could fail me!
dear God:
thank you for giving me a second chance...and a third, and a fourth, and onto the fifth.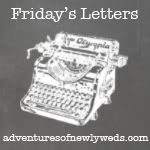 PS:
Don't forget to enter
the giveaway
...I promise it's like Christmas morning!