dear

b

s

u

:
that was by far, the ugliest game I have ever seen in my entire life. Although we won, that was absolutely embarrassing.
That defense totally held you together!
dear husband:
So grateful that work has slowed down and you are actually home, and we were actually able to talk...yeah- what a concept huh?!
dear hudson:
lets pop that other molar through shall we?!
dear mom:
thank you for booking your ticket - 13 days!
dear glee
[total guilty pleasure] : loving the new season...so much!
dear new exercise ball:
thank you for being weighted and not rolling away! :)
dear new tie designs:
so excited for you to enter the shop!
dear sonic:
you totally filled my craving for a limeade...[you have no idea how awesome it was.]
dear new followers:
w e l c o m e !
so glad to have you! Can't wait to get to know all of you better!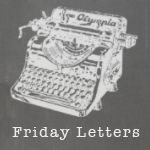 ps. Check out my guest post over at wifessionals today on some "fabulous big hair!"
and have a great weekend!