I
don't even think this day/post needs an introduction anymore! haha, but just in case...I'm linking up with the lovely
Jenna over at The Life of the Wife,
for Last Thing Thursday!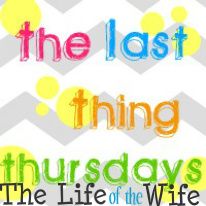 pinned [and shouldn't have]:
yes, these are homemade baked maple bars...I pinned them late last night and I'm almost postive I dreamed about them all.night.long.
To make or not to make!?
got nervous for:
as many of you already know, I've been getting ready for my first 5k...and it's all going down on Saturday! I'm running with an amazing group of girls this weekend and couldn't be more happy/nervous about it!
got excited for:
This city. We've had some unexpected things happen to our house back in Boise, so we will be making a little [by that I mean a 13hr drive] trip up there within the next few days to fix some things up! We are so excited to be seeing everyone and spending some much need time away...
Jammed out to:
The Wanted: Chasing the Sun. Hudson abosolutely loves this song, and bangs on his drum to the beat, while mommy and daddy do tribal dances around the living room floor...
made me "oh so happy":
These babys. Yeah, I'm the girl who bought new tennis shoes, brand new, 1 week before her first race. cRaZy I know, but my other shoes just weren't going to cut it this time. Seriously, these are the lightest tennis shoes I've ever worn...I've totally been missing out on some awesome-ness!
Motivated me:
myfitnesspal.com...I did a guest post about it over at Just2Birds this week...check it out!
h a v e a v e r y
h a p p y t h u r s d a y !
Now, LINK UP!