Last Thing Thursday!
If you jump right in too...link up!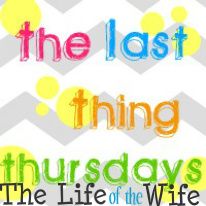 Even if you don't link up, Jenna's post is so inspirational and touching this week...read it!
I needed a little something to motivate me this morning so...
last thing I...
[pinterest edition!]
pinned and actually made: [
I know, shocker!]
Love this website, and this recipe for skinny enchiladas! It was delicious and healthy for you!
Please tell me that this outfit is not just adorable!?
Would I wear it...probably not until my legs looked like that.
Hence the reason I pinned this shortly after...
pinned and made me smile:
every
single girl deserves to be smiling, with your husband, at this age...falling more and more in love every single day! How could you not want that feeling!?
pinned and made me choke up:
[okay, maybe it made me tear up a bit too]
"This picture is from an article called the "RESCUING HUG" The article details the first week of life of a set of twins. Apparently each were in their respective incubators and one was not expected to live. A hospital nurse fought against the hospital rules and placed the babies in one incubator. When they were placed together, the healthier of the two, threw an arm over her sister in an endearing embrace. The smaller baby's heart stabilized and temperature rose to normal."
pinned and called my husband about:
Yes, I totally called my husband about this! Clearly this would just be so awesome to have in your house, and clearly, I would use it more than any child I may have! haha.
pinned and said "duh":

[You know those times where you see something and think to yourself, well duh, why didn't I think of that!?]
pinned and choosing to live by quote: I literally pin at least 3 quotes every time I'm on Pinterest, I just can't help it! But read this, and tell me...you couldn't have said it better yourself?!

Happy Thursday everyone!