hello.
This blog hasn't seen much action the past few days, has it?! Well, I will tell you that we had an amazing time in Boise this past weekend [you will read all about that later, but until then, I'm leaving today in the best hands possible, Ashlee from ABpetite!
So while I am driving the dreaded 13 hour road trip home, in some nasty weather, with the busiest eighteen month old ever, you get to read about Ashlee, and by the end, I promise your mouth will be watering, and your tummy will be hungry.
________________________________________________________________________________
Hello all, so nice to meet you! I am so extremely
thrilled
to be guest posting today with Elise at her amazingly fun filled blog here at
That's Comma With A "K"
. Let me introduce myself I am Ashlee and my little ol' blog is called
ABpetite
. You may have read about my blog last Thursday when she posted the
Sponsor Spotlights
. However, for those of you that missed that I will tell ya a little about myself.
I have a healthy eating blog. I create recipes that will help ALL of our waist lines. I also post the nutritional information PLUS WEIGHT WATCHER POINTS so that you know just what you are eating. In my case I like this calculated so I can see just how many of those Pumpkin Cheesecake Brownies I can eat (recipe below). Let's get right to it, here is the recipe!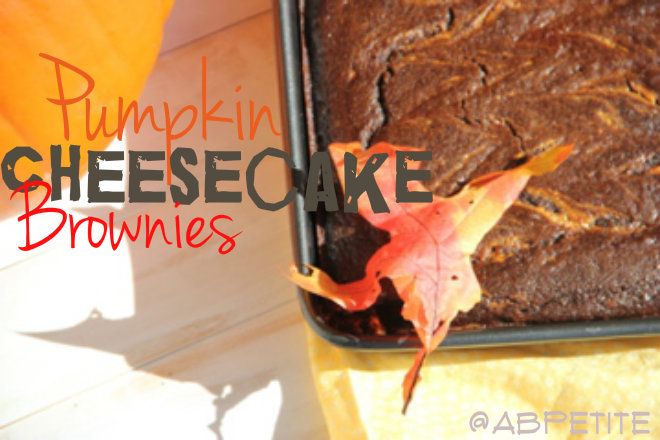 __________________________
__________________________
Here Are Your Ingredients:
Recipe Adapted from Men's Health Magaize
2 tablespoons low fat cream cheese
1/2 cup, plus 1/4 cup sugar
1/2 can pumpkin
3 large eggs
1 cup whole wheat flour
1 teaspoon cinnamon
6 ounces bittersweet baking chocolate
2 tablespoons unsalted butter
1/3 cup unsweetened cocoa powder
1 cup stout beer
1 teaspoon vanilla
1/4 teaspoon salt
Preheat oven to 350 degrees. Lightly grease an 8-inch square baking pan. In a bowl, stir together cream cheese, 1/4 cup sugar, canned pumpkin, 1 egg, 2 tablespoons flour, and 1/2 teaspoon cinnamon; set aside.
Place chocolate and butter in pan on medium heat stirring until completely melted. Remove the mixture from the heat and stir in 1/2 cup sugar. Mix in 2 eggs, one at a time. Gently stir in 1 cup flour, cocoa powder, beer, vanilla extract, baking powder, salt, and 1/2 teaspoon cinnamon.
Scrape half the chocolate batter into the prepared baking pan and spread evenly. Spread half the pumpkin mixture on top, then add the remaining chocolate mixture on top of that and spread evenly. Top with the remaining pumpkin mixture. Gently swirl batter with a butter knife. Bake for about 30 minutes, or until an inserted toothpick comes out clean. Let cool before slicing!

Thank you So SOOOO much Elise for having me today and giving me this AMAZING opportunity. ALSO thank you to all of you new blog friends for reading my post! Please come and say hello soon!

Amazing right?! I told you!
Now, go make yourself some, and pray that we get home at a decent hour, without any road closures this time...lets just say that we got stuck for 5 hours on the way to Boise...I think Hudson will forever hate the car no matter how fun I try and make it!